Please find below our currently available education list. You can be assured that both used and new instruments are all fully checked and setup before dispatch.
Trevor James Artemis Trumpet - £165.00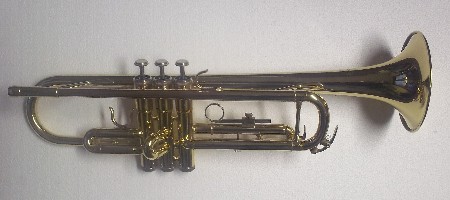 This Trumpet is absolutely immaculate.Both instrument and case appear to be totally unused.

Absolute Bargain. Highly Recommended.

---
Besson 1000 Trumpet (silver plate) - £185.00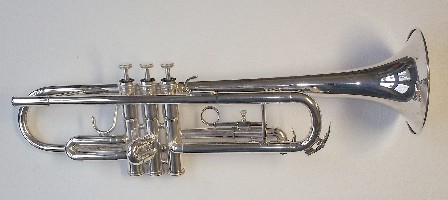 Excellent Condition.Appears to have had very little use.

Complete with original case and mouthpiece.Both in excellent condition.

Highly Recommended

---
GBMS FANFARE Trumpet - £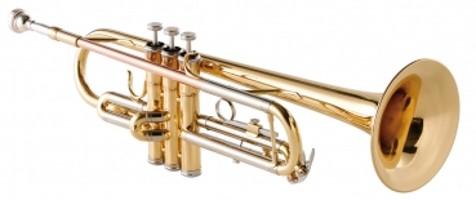 Brass bell, gold brass lead pipe, stainless steel valves, 1st slide thumb ring, 3rd slide adjustable finger ring, lacquered. Comes complete with mouthpiece and backpack style case . Excellent student outfit. See the report in news and Reviews from one of our delighted customers.

---
Peter Gane COMPACT Trombone - £414.00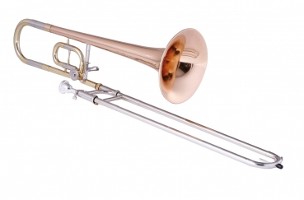 C1350TR .Bb/C Compact model. Dual bore 12.7/ 13.34mm (.500"/.525") 203 mm (8") Red Brass Bell. This is the latest addition to the Peter Gane range of trombones. It is pitched in Bb with an ascending C valve. The instrument is shorter than a standard tenor trombone, but due to the innovative design, allows a full scale to be played by using the C valve instead of 6th and 7th positions. The shorter slide , coupled with the specially designed curved braces, make the instrument very comfortable to hold and is therefore a perfect learning instrument for the younger player. It is robustly made and includes nickel silver outer slides. This style of instrument is very popular with teachers, but the price is usually prohibitive. We think our instrument offers the best quality and value for money on today's market. Supplied with mouthpiece and solid lightweight case, complete with back pack straps for ease of carrying . See customer feedback in News and Reviews

---
"Jumbie Jam" Steel Drums - £149.00
•Steel drum in the key of G •Height adjustable stand with fun feet •Diameter of pan 40cm, depth 6.5cm weight 1.38kg •Includes mallets, beginners guide, song book and CD •Supplied in a strong box with carry handle The world's best beginner steel drum!

- Authentic Caribbean steel drum

- Delightful tropical island sound.

- Easy to learn beginner's guide and song book

- Clearly marked notes for easy playing

- Height adjustable

The Jumbie Jam is professionally packaged, and includes Jumbie Jam Pan, height-adjustable, collapsable stand with fun feet, mallets, instructional booklet, containing a playalong CD, music for 5 tunes, and educational material. You will be blown away by the quality of this instrument - there are many beginner pans out there, but only the Jumbie Jam produces a sound that matches that of a professional quality instrument. Designed for ages 5 plus and Adults too! Perfect for Beginning Musicians, General Music Classrooms or adding an island flavour/Caribbean sound to any band!

---
Ukelele - £17.50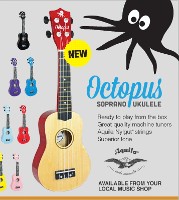 •Manufacturer: Octopus Ukulele •THE ukulele brand for 2013 •Full colour box •Great quality machine tuners •Aquila Nylgut strings •Supplied with matching bag

---