Please find below our currently available used instrument list. You can be assured that both used and new instruments are all fully checked and setup before dispatch.
Reynolds Contempera F/Bb Double Horn - £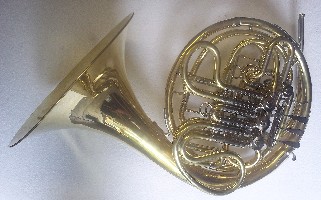 In order to ensure that our customers get the very best value for money instruments ; All of our Intermediate and Professional model Horns are tested and assessed by Tony Halstead. They are then sold via his website. Click on the Link to get a full description and the price. Follow this link to his website

---
Trevor James Artemis Trumpet - £175.00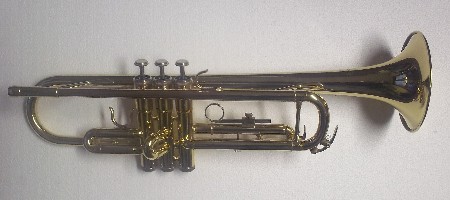 This Trumpet is absolutely immaculate.Both instrument and case appear to be totally unused.

Absolute Bargain. Highly Recommended.

---
Yamaha 2330II Cornet - £275.00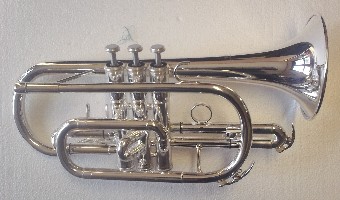 Excellent condition. Completely overhauled and silver plated.Looks good. Plays well.Comes with Mouthpiece and older style(series I)case.

---
Yamaha 2330II Cornet - £290.00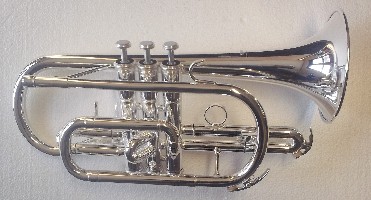 Excellent.Completely overhauled and silver plated.Looks good. Plays well.Comes with mouthpiece and modern Yamaha case.

---
Besson 700 International/B&H Imperial Cornet - £275.00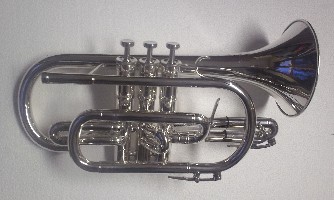 Sometime during the late 70's /early 80's, B&H discontinued the Imperial and replaced it with the Besson 700 International.This was a slightly updated Imperial valve section, fitted with a 3rd valve slide trigger and an Imperial bell,which was engraved Besson 700 International.

During the change over a few Imperial Bells were used, presumably to save throwing them away.These Cornets did not have the 700 prefix, but in every other way were the International.This one is an Imperial Bell on a 700 valve section.

The s/n dates this instrument to 1981, so I assume this is a "changeover" model.

Some evidence of a few small dents being removed, but silver is intact and it is generally in excellent condition.Plays well.Comes with Mouthpiece and a blue B&H Case.

N.B. It is always possible that the Bell has been changed sometime during the life of this instrument,but I can see no evidence of this.

---
Besson 927 Sovereign Cornet - £875.00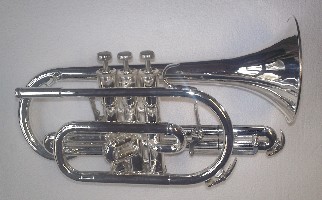 Completely overhauled and silver plated.Comes with mouthpiece and an original Sovereign case.

---
Vincent Bach Stradivarius Cornet Mod 184 - £825.00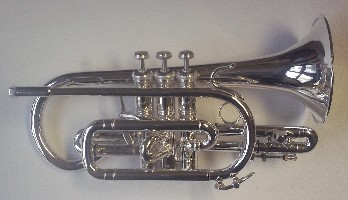 Completely overhauled and silver plated. Comes with mothpiece and an original Stradivarius case.

---
V.Bach Stradivarius Mod 37 Cornet - £575.00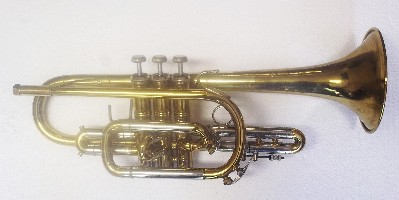 Generally very good condition.Lacquer is almost intact except for an area on the bell which appears to have had a dent removed.A crease has also been removed from the bell,but lacquer is still intact here.

Mechanically excellent and generally has the appearance of an instrument that has been well looked after.

Comes with V.Bach 5C mouthpiece and an original Bach case, which does the job , but has seen better days.

---
Yamaha 354 Trombone - £450.00

Selling on behalf of customer.

This Trombone is in showroom condition. Appears to have had very little use.Highly recommended. Comes with 2 mouthpieces and Trombone stand.

---
AK Amati Tenor Horn - £175.00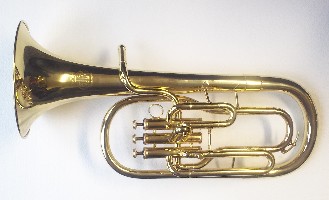 Virtually new.Couple of tiny marks, but looks and plays like a new instrument.

Comes with original case, also like new and mouthpiece.

---
GUARANTEE - 0

All of our used instruments are fully serviced prior to sale and all carry a 6 months mechanical guarantee

Instruments currently being refurbished :-

B&H Imperial Trumpet. Besson New Creation Trumpet.DEG Cornet.Besson 923 Sovereign Cornet.Several Yamaha 2330II Cornets. V.Bach Stradivarius 184 Cornet.Several B&H Imperial Cornets. B&H Imperial Tenor Horn. 2xYamaha Tenor Horns.Imperial Baritone.Yamaha Baritone.Reynolds Contempera Double Horn.Several King F/Bb Double Horns.2 x Paxman Studenti Horns.Holton 379 F/Bb Double Horn.Yamaha 662 F/Bb Double Horn.Besson 700 Compensating Double Horn. Lots more!!

Our Website is currently looking a bit empty.This is purely due to pressure of work. We always have a selection of instruments awaiting refurbishment, which have not yet progressed to the website.Some of them are listed above. If you can't see what you want, don't be afraid to ask. We may well have it

---